Founded on September 25, 1968, Allis Electric Co., Ltd. started by producing low-voltage switchgear, motor control centers, high/low-voltage integrated start-up panels, AC/DC industrial control equipment and transmission & distribution apparatus. Its steady operations led to the development of independent departments which produce transformers, switching devices and electronic products.
Our products are designed to meet the requirements of renowned corporations around the world, such as Los Angeles Department of Water and Power, Toshiba, Taiwan Semiconductor Manufacturing Company, etc. A successful public offering in 1994 has allowed Allis Electric to continue its steady growth and to venture into the telecommunications and high-tech industries.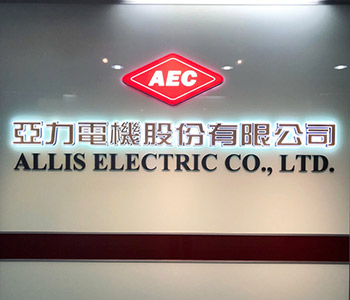 Its solutions now span IT, Telecommunication, Industry, Wireless, Utility, and Supervisory Control And Data Acquisition(SCADA). Besides, Allis does not limit itself in Taiwan. Being competitive in the global market is how Allis does business. Through investments, joint ventures, establishment of overseas offices in Europe, USA, and China, Allis Electric continues to develop strategic business alliance to strive for excellence as a multinational business group. With confidence delivered through more than 36 years of solid performance and in-depth knowledge, Allis will continuously work upon its core competencies to be ever more customer-oriented and create values for its stakeholders.
Company established on Sep. 25.
Joint Venture with Japan Marine company to establish Taiwan Marine Electric Co., Ltd
Technical collaboration with Japanese company on Switchgear product in April.
Technical collaboration with USA Siemens-Allis Inc to produce 69KV ABS in September.
The factory was rated Grade A factory by Taiwan Economy Affair.
Investment memorandum exchanged with Nissin Electric Corporation, a leading listed company in Japan, to include Nissin as a legitimate foreign corporate investor.
Established affiliate Air King Industrial Co., Ltd Technical transferring agreement with Taiwan
Industrial Technology Research Institution on RTU in May.
Technical collaboration with USA based Kearney National Inc to produce Cut Out in December.
Establish subsidiary NIPPON-ALLIS SIGNAL Co., Ltd to Sales, installation and maintenance of railway signal system and related equipments in March.
Investing China Qing Dao Yi He Allis Gas Co., Ltd to produce & sell Power Switch products.
Joint-Ventured with China Qing Dao Heng Yuan group to set up Qing Dao Heng Yuan – Allis Electric Co., Ltd manufacturing and distributing electrical gas switch.
Acquiring manufacturing facility to increase productivity on Cast Resin transform.
Hsin Chuang laboratory was certified by TAF
Yang Mei laboratory was certified by TAF
To pursuit better corporate governance and form Salary Compensation Committee
Hsin Chuang factory was certified High voltage equipment manufacturer and registered recognition under Taiwan Economy Affair in January.
Yang Mei factory was certified High voltage equipment manufacturer and registered recognition under Taiwan Economy Affair in July
To invest AYM International Inc. Guan in October in the businesses of selling and servicing electrical equipment and project engineering.
Japanese Nippon Signal Co., Ltd as long-term investor to purchase 6,000,000 shares with accumulated shareholding percentage 2.98%.